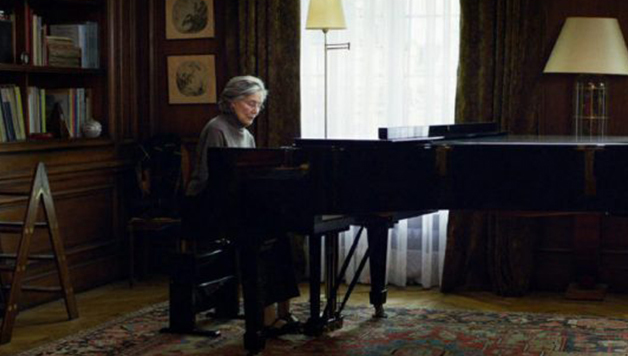 Mature themes and infrequent coarse language
---
France 2012
Director Michael Haneke
Featuring: Jean-Louis Trintignant, Emmanuelle Riva, Isabelle Huppert
Language: French with subtitles
Running time: 122 minutes
---
Amour is so simple in form that its great depth of feeling is easily measured. Here is a picture made in one apartment with a handful of players. It runs two hours and it cost a little over 7 million Euros. Georges and Anne are in their early eighties. They are retired music teachers. Anne has a brief episode of oblivion and then a stroke. The poise and stability of their life together is over; there are now two lives. There is nothing more to say, except that they do not win the lottery or chase each other through the streets of Paris in sleek Lamborghinis. Nor is there a miracle cure. In your eighties, you have no trust in cures.
It is a film about these two people. But they have a daughter who comes to see them, and the daughter is a subtle gift to the film. She lets us see Georges and Anne as people we have known before. So two players recollected from our past are suddenly older, and that transition cannot help but serve as our mirror, too. This is something the daughter sees, and that in turn helps us feel the nature of growing older. This daughter is played by Isabelle Huppert, who will be 60 next year.
Amour is as hard and bright as bone. The love it observes is intense, selfish, and nearly insane (these are the film's greatest truths). It is a pact that excludes the daughter; it is far from being simply kind, or warm or feel-good.
Review: David Thomson The New Republic
Extracted by: Mark Horner