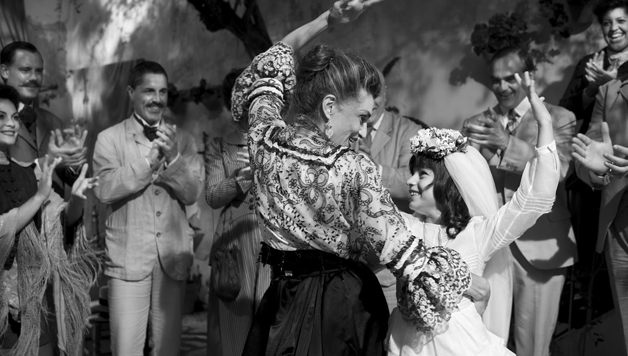 Mature themes
---
Spain 2012
Written and directed: Pablo Berger
Featuring: Maribel Verdú, Daniel Giménez Cacho, Ángela Molina, Pere Ponce,
Macarena Garcia, Sofia Oria, José María Pou
Silent black and white film.
Running time: 100 minutes
---
Silently and beautifully told, this story from Spain is a version of the Brothers Grimm's " Snow White" set in Spanish bullfighting country in the late 1920s. Writerdirector Pablo Berger's "Blancanieves"goes all the way and then further. It is a black and white silent film and Berger's light-fingered confidence and utter lack of facetiousness is entrancing.
Once upon a time in Seville, a bullfighter won hearts and admiration for his prowess with the cape and the sword. In our story such a bullfighter suffers a near fatal accident in the ring and his pregnant wife (Inma Cuesta) goes into labour. She dies leaving a healthy daughter, Carmen, who's progress from seven to adulthood is signified by a fluttering bedsheet on a laundry line. The bullfighter's new serpent-like wife, treats Carmen badly and Carmen takes solace in her rooster friend, Pepe.
Berger has a ripe sense of humour which is occasionally at odds with the melodramatic atmosphere because "Blancanieves" takes its emotions seriously. Those wanting a Disneyfied happy ending may resist the one they get which is more Grimm than Walt. The film is a glorious achievement, Berger's ability with rapid-fire montage, particularly in a key early bullfight sequence, breaks right at the edge of parody. This is a splendidly edited exercise in style (Fernando Franco is listed as editor) with richly brocaded silvers, greys and blacks courtesy of cinematographer Kiko de la Rica. The musical score by Alfonso de Vilallonga is terrific, witty, symphonically lush and shrewdly infused with flamenco strains throughout the movie.
Original Review: Michael Phillips Chicago Tribune
Extracted by Kim Pridham