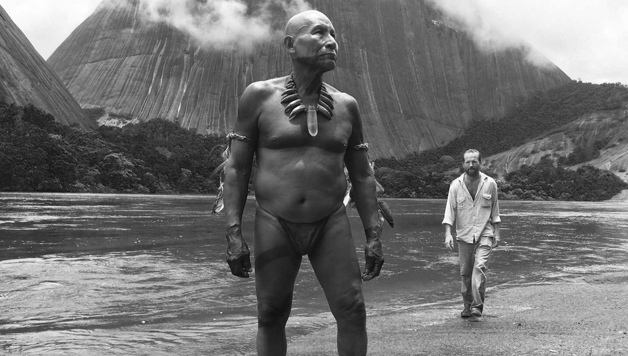 (El Abrazo De La Serpiente)
Mature themes and Violence.
---
Colombia, Argentina, Venezuela 2015
Director: Ciro Guerra
Featuring: Nilbio Torres, Jan Bijvoet, Antonio Bolivar, Yauenku Migue
Language: Portuguese, Spanish, German and Native Aboriginal
Running time: 124 minutes
Original review: Jordan Mintzer, hollywoodreporter.com Cannes Review
Extracted by: Janez Zagoda

---
A visually mesmerising exploration of man, nature and the destructive powers of colonialism, featuring knockout black-and-white cinematography and an array of breathtaking locations, this is an ethnographic journey into the heart of the Amazon – with a whopping total of nine different languages spoken on screen.
The film was inspired by the journals of two explorers who travelled through the Colombian Amazon during the last century: The German Theodor Koch-Grunberg and the American Richard Evans Schultes.
Cutting between 1909 and the 1940s, the parallel narratives chart each man's voyage down a similar stretch of river as they search for a rare flower, the yakruna, with alleged healing powers. On both journeys, they are guided by the same forlorn native shaman, Karamakate, the surviving member of a tribe that was wiped out by years of brutal foreign invasions.
Filled with regret over the loss of his people and unable to fully trust the men he agrees to accompany downriver, Karamakate ultimately proves an invaluable resource to the explorers, both of whom are curious about his culture and willing to go along for the ride without knowing where they're headed. Theodor, who's suffering from a fatal illness, is especially dependent on the witch doctor's powers, taking hits of an herbal medicine, in order to stay alive.
Following the duelling voyages, as they head further into the heart of Amazonian darkness, we see pristine widescreen imagery to underline the beauty of a place that's slowly and sadly headed toward oblivion. For every magnificent stretch of forest and river, there are telling signs of destruction, such as a rubber plantation where a mutilated worker begs to be put out of his misery, or a Catholic mission that over the years becomes a decadent fiefdom ruled by a religious quack.
This is an absorbing account of indigenous tribes facing up to colonial incursions, the type of film we are always searching for, yet seems so obvious once we have found it.