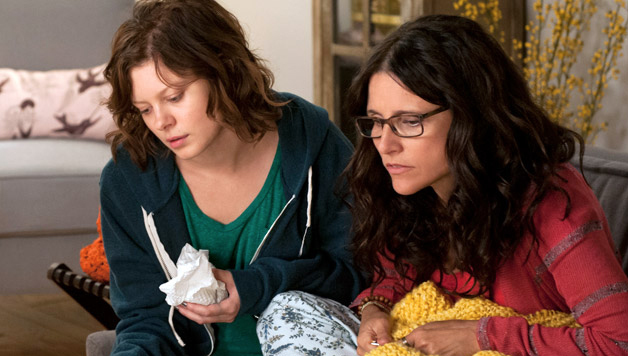 Infrequent coarse language and sexual references
---
USA 2013
Director: Nicole Holofcener
Featuring: Julia Louis-Dreyfus, James Gandolfini, Catherine Keener, Toni Collette
Running time: 93 minutes
---
A divorced single parent, Eva spends her days enjoying work as a masseuse but dreading her daughter's impending departure for college. While at a party she meets Albert - a sweet, funny and like-minded man also facing an empty nest. As their romance blossoms, Eva befriends Marianne, her new massage client. Marianne is a poet who seems "almost perfect" except for one prominent quality: she spends much of her time complaining about her ex-husband's annoying habits. Suddenly it all comes together as Eva realizes that Albert is Marianne's ex and finds herself doubting her own relationship with Albert as she learns the "truth" about him from Marianne.
The delicacy of nuance and the impact of the minutiae are placed under the microscope in this keenly observed comedy about relationships and the unpredictable essence of human behaviour. This is film-maker Nicole Holofcener's forte, exposing the innermost conflicts, confusions, uncertainties and vulnerabilities of relationships and the interactions that form their pulse - all with a light touch.
Enough Said is engaging, funny and richly coated with brave lashings of tangible situations and reactions. The way Eva and Albert figuratively dance around each from their initial meeting at a party after a damning statement that neither is attracted by anyone present, is highly compelling as the twists and turns of their relationship evolve.
Toni Collette plays Eva's therapist friend whose marriage seems to be destined for the same fate as that of the other two women. The disastrous dinner scene is one of the film's best, when words spit out like bullets and self-restraint flies out the window.
We can see and learn a lot about ourselves in Holofcener's films and the journey is not only amusing and pleasurable, but also thought provoking.
Original review by Louise Keller, Urban Cinefile
Extracted by Gail Bendall