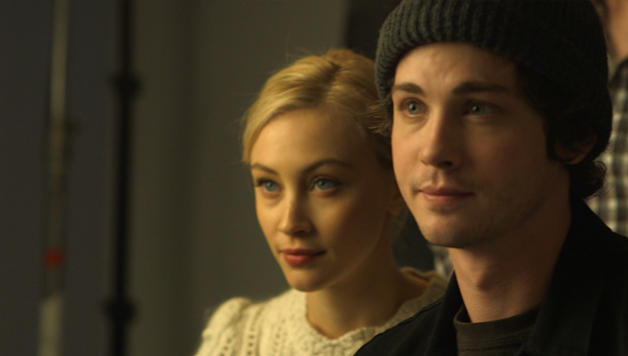 Mature themes, violence, sex and coarse language.
---
USA 2016
Director: James Schamus
Featuring: Logan Lerman, Sarah Gadon, Tracy Letts, Ben Rosenfield
Running time: 110 minutes
Original review: Robin Clifford, Reeling Review
Extracted by: Gill Ireland

---
It is 1951 and the Korean War looms high in the minds of America. Marcus Messner (Logan Lerman) is the son of a kosher butcher in Newark and has earned a scholarship to Winesburg College in Ohio, thus avoiding the dreaded draft. But Marcus has a hard time adapting to his new home until he meets Olivia (Sarah Gadon).
Director James Schamus adapts Philip Roth's 2008 novel and puts us back into the early 1950s with Marcus as he moves into the men's dorm at the college. He meets his roommates, Bert (Ben Rosenfield) and Ron (Philip Ettinger) but his reluctance to socialise makes him an island unto himself. Then he sees Olivia and is immediately smitten by the pretty girl. 'Indignation' does a fine job in showing the mores of the time. Marcus's insecurities coupled with his youthful ideals make him a very complex and confused character. This is especially true when he gets up the courage to ask Olivia on a date and he gets a lot more than he expects. Logan Lerman is steadily building a career which is varied and challenging. His Marcus is the focus here and shows he can carry a film as lead actor. Sarah Gadon is terrific as the girl next door/femme fatale who liberated and confuses Marcus. Her character has her own back story that is nearly as well-defined as Marcus's.
'Indignation' truly feels like a Roth story as it deals with the intensity, angst and intellectual insecurities and certainties of youth. James Schamus captures this and delivers it with a production that puts the viewer into Marcus's life and time.