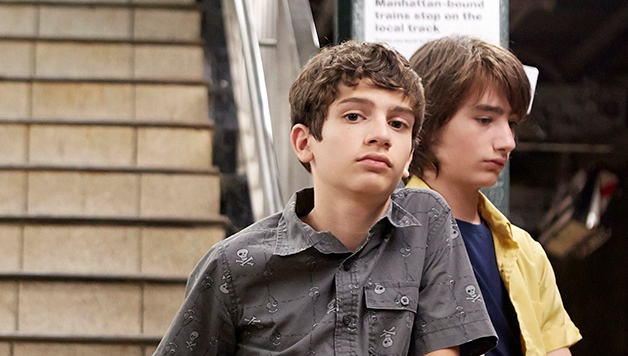 Mild Themes and Coarse Language.
---
Greece, Brazil, USA 2016
Director: Ira Sachs
Featuring: Greg Kinnear, Theo Taplitz, Michael Barberi
Language: English, Spanish
Running Time: 85 minutes.
Original Review: Andrew Parker; Toronto Film Scene
Extracted by: Gill Ireland

---
Focusing on youthful protagonists for the first time since his debut feature The Delta in 1996, Sachs tells the story of teenage best friends growing up in present day Brooklyn. Shortly after the death of his grandfather, thirteen-year-old Jake Jardine (newcomer Theo Taplitz, making his feature debut) moves with his struggling actor father, Brian (Greg Kinnear), and psychotherapist mother, Kathy (Jennifer Ehle), from Manhattan to an inherited apartment over a dress shop in Brooklyn. Almost immediately, Jake becomes fast friends with Tony Calvelli (Michael Barbieri, also making his feature debut), the son of the shop's Chilean immigrant owner, Leonor (Paulina García). While the pair bond over their love of acting and art, a power struggle arising between the parents threatens their friendship. Brian has been given the unenviable task of asking the financially struggling dress designer to agree to a tripling of her rent, which had been frozen under his grandfather's ownership of the building. Unable to pay and unwilling to leave, Leonor makes things as emotionally difficult as possible for Brian, and both parents refuse to acknowledge what the situation means for the friendship of their kids.
Watching Kinnear (giving his best performance in over a decade) playing a man struggling not to be a bad guy is gut wrenching. Similarly, while the plight of Leonor is one that audiences should be sympathetic towards, her coping skills are the exact opposite of Brian's. When cornered on the subject at hand, Leonor can be evasive, passive aggressive and sometimes, downright cruel. It's subtly gut wrenching, but never overly depressing subject matter made even more melancholic by the fact that Tony and Jake are great kids with bright futures. They aren't troubled. They disagree with how their parents handle things. They have similar dreams, and most importantly, their sense of loyalty to each other is unparalleled. Their rapport is nothing short of effortless, and Sachs has placed his realist narrative in perfect hands.