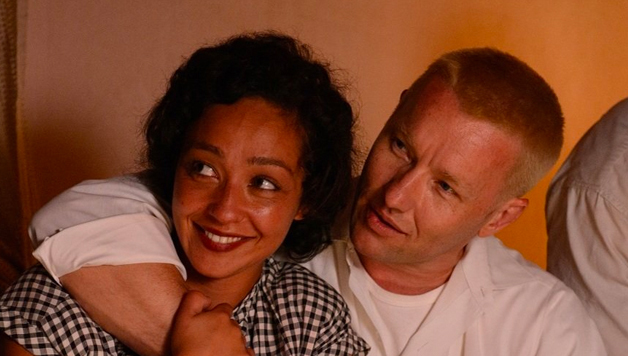 Mild themes, coarse language.
---
USA 2016
Director: Jeff Nichols
Featuring: Ruth Negga, Joel Edgerton, Will Dalton, Michael Shannon
Running time: 123 minutes
Original review: Louise Keller; Urban Cinefile
Extracted by: Gail Bendall

---
Defying the state of Virginia's law against interracial marriage, Richard Loving, a white man, marries Mildred, an African American woman, in 1958. The state seeks to end their union by first jailing and then banishing the couple from Virginia. Richard and Mildred spend the next nine years fighting to get home, taking their civil rights case all the way to the Supreme Court.
Painting his cinematic palette with economy and understatement, Midnight Special director Jeff Nichols allows this potent civil rights story to unfold - simply and without fanfare. While the film may be notable for its lack of dramatic curve, it is not lacking on power or emotion.
First and foremost, this is a love story. The fact that the man and woman happen to be white and coloured is incidental. To begin with, anyway. In fact, Nichols makes a point of not stating the fact that the law in Virginia in 1958 deemed interracial marriage illegal.
It takes a little while to get a sense of why construction worker Richard Loving and his new wife Mildred are arrested and thrown into prison. To accentuate the colour differences, Edgerton is almost albino-esque. 'You hang around all these black folks,' he is told, 'but you're white.' When they are told they must leave Virginia and not return for 25 years, we begin to understand the reality of the escalating civil rights issue from a personal perspective. Mildred's letter to Robert Kennedy begins a chain reaction, starting with the Civil Liberty Union which is when a roadmap to the Supreme Court is set.
Michael Shannon plays the small but important role of a Life Magazine photographer, who captures the essence of the relationship of the couple as they await the outcome of the Supreme Court case in 1966. Marriage is and should be an inherent right. The implication to others about land ownership and legitimacy of children is apparent.
This is a film that delivers its message quietly: the facts speak for themselves. It is refreshing to find a film with no emotional manipulation, prompting us to allow our gut instincts to guide us.