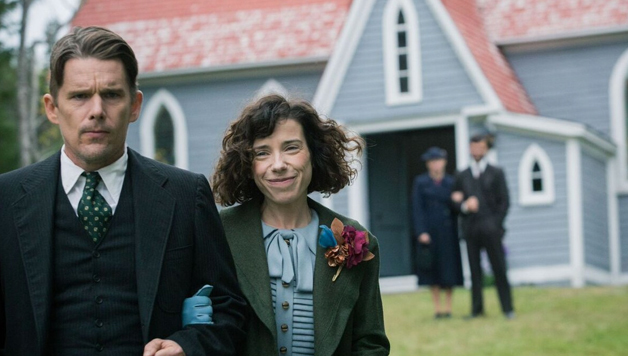 Coarse language and violence
---
Canada, Ireland 2016
Director: Aisling Walsh
Featuring: Sally Hawkins, Ethen Hawke, Kari Matchett
Running time: 116 minutes
Original review: Liz Beardsworth; Empire Magazine
Extracted by: Peter Gillard

---
Shot in Newfoundland and Labrador, the achingly beautiful locations give striking context for a story that begins, at least, suffused in sadness. Maud — hampered by her condition, shunned by a brother who barely cares for her, and nursing the pain of losing her out-of-wedlock daughter whom she's been told died shortly after birth — wanders into the local grocery store one day and observes the irascible Everett placing an ad for a housekeeper.
It's hard to see what Maud sees in Everett himself as he casts baleful glances at store owner, goods on sale, the wall, anything he encounters, but here is the chance of belonging somewhere, and with, as we shall learn, typical Maud positivism she seizes it, turning up at his tiny, run-down cabin of a home and refusing to take no for an answer.
Theirs is a difficult start, and there's no soft-soaping here: Everett is even seen hitting Maud on one occasion, Walsh making no excuses for his violent behaviour. It's a challenging moment for the audience, no doubt, and kudos is due to both writing and actor that we are prepared to give Everett even half a chance. Still, astonishingly, this "pair of odd socks" gradually fall in a quiet, undemonstrative kind of love, Maud drawing out his vulnerabilities as he cautiously supports her developing career as a painter.
Like the central pair's romance, Maudie is a slow-burn, low-key film, as much about looks and silences as what's being said. Sandra a vacationing neighbour, offers engaging support and context, but this is really a two-hander, and it is Hawkins and Hawke's nuanced performances that make this complicated, unconventional but delicately moving relationship ring perfectly true.