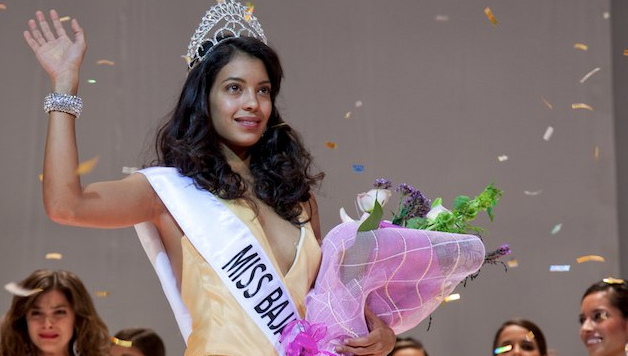 Strong coarse language and violence
---
Mexico 2011
Director: Gerardo Naranjo
Featuring: Stephanie Sigman,Irene Azuela,Jose Yenque
Language: Spanish & English with subtitles
Running Time: 108 minutes
---
What happens when being in the right place at the right time is also the wrong place at the wrong time? That's the terrifying minefield that "Miss Bala" navigates in a
modern-day Mexico where beauty pageants, politics, police, power and the drug business mingle to deadly effect.
The film takes on the bloody running turf wars of the narcotics trade from street level. It is seen through the eyes of Laura Guerrero, an impoverished young beauty whose dreams and whose life are about to become part of the collateral damage.
The film begins on edge in the uneasy half-light just before night gives way to day. The shadows don't hide that Laura's house is in deep decline, as is the family inside. Her hopes are plastered on the wall around her bedroom mirror, glossy magazine cut-outs of stylish models who exist in a world she can't even imagine. Despite a worried father and an anxious brother, she is soon off to meet a friend in the city to make a run at that distant dream.

The film unfolds over the next three days as local girls gather to compete in Baja's state beauty pageant, with its promises of fame and money. At a nightclub the first night, where some of its well-connected patrons might "help" on the pageant front, Laura gets caught in the crossfire of a gang shoot-out, with the terrified girl surviving but seeing too much and, worse, being seen. Bit by bit, her confidence is eroded, her instincts questioned, and ending again and again with the poisonous Lino, the local drug honcho she keeps crossing.
Well executed and riveting, the action is nevertheless what you'd expect a drug war would generate.
Original review: Betsy Sharkey -The Los Angeles Times - Extracted by Janez Zagoda