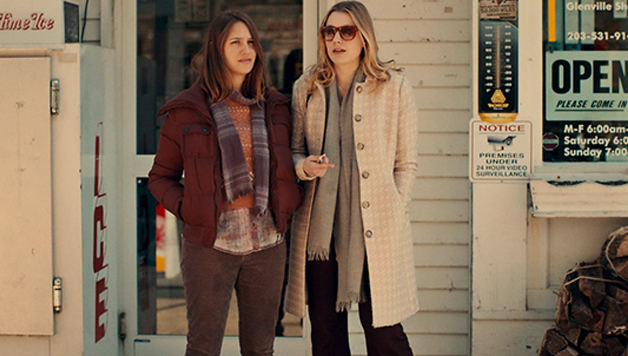 *The AGM is Monday 29 February at 6.00pm.
Strong coarse language
---
USA 2015
Director: Noah Baumbach
Featuring: Greta Gerwig, Lola Kirke, Michael
Chermus, Dean Wareham
Running time: 84 minutes
Original review: Gregory Ellwood
Extracted by: Robin Claxton
---
Mistress America, is an hilarious comedy that premiered at the 2015 Sundance Film Festival.
It is told from the point of view of Tracy who is having first semester problems of fitting in and making friends at College in Manhattan. She does find one ally in Tony but that joy is short-lived once Tony surprises her by finding a jealous girlfriend. Seemingly alone once again in the big city, Tracy finally takes her mom's advice to call her soon-to-be stepsister Brooke.
The 30-year-old Brooke is a whirlwind of energy and ideas that blows Tracy away. Brooke has a slew of jobs, but she's everywhere all at once. Her dream is to open a restaurant, a majority of the financing for which is from her mysterious boyfriend Stavros. Brooke seems to suffer from creative ADD, jumping from one subject matter to another, and is full of opinions and unsolicited advice that Tracy can barely process at first.
While Tracy's road is finally getting brighter, disaster strikes for Brooke when Stavros drops out as her primary investor. Things get worse when she returns home with Tracy to find that the landlord has changed the locks on her apartment. Desperate, Tracy helps convince Brooke to visit her former best friend and one-time boyfriend Dylan, in Greenwich, Connecticut to replace Stavros' share.
Before anyone can really think that out to a logical conclusion Tracy has persuaded Tony to drive a car-less Brooke out of town for this last-ditch effort. When they reach Dylan's mansion a comic set piece of almost non-stop zingers and comedic banter ensues that's hard to describe without spoiling a lot of the fun. Secrets are revealed, characters make major life choices and the plot goes in a somewhat unexpected direction.
Baumbach has cast a wonderfully talented group of up-and-coming actors around Gerwig and Kirke, but it's the screenplay and the leads' incredible chemistry that makes it all so entertaining. There are so many one-liners that you miss because the previous line of dialogue is just as smart and laugh-inducing.