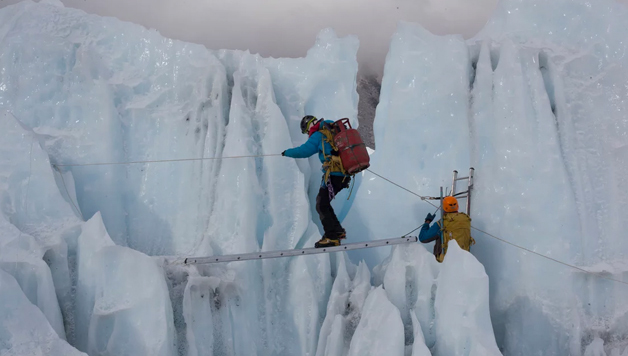 (An)
Mature themes and coarse language.
---
Australia/Nepal 2015 Director: Jennifer Peedom Featuring: Phurba Tashi Sherpa, Ed Douglas, Russell Brice
Language: English/Nepali Running Time: 96 minutes
Original review: Richard Kuipers, Variety
Extracted by: Robin Claxton

---
The economic and spiritual significance of Mount Everest are examined in this visually magnificent and richly textured film centred on the guides who've led foreigners to the highest place on earth since 1953.
Centre-frame in the early passages is Phurba Tashi Sherpa, a veteran guide preparing for a world record 22nd ascent. Filmed in his family home, Phurba shows no interest in landmarks or fame. Financial security is the sole motivation for the risky work he undertakes in the few weeks each year when conditions are suitable for climbing.
With the audience well informed about the Sherpa's relationship with Chomolungma/Everest the scene switches to the foot of the mountain where planning for the 2014 climbing season is underway. Key subjects at the nerve centre are journalist Ed Douglas and Phurba's employer Russell Brice, a tough but fair tour operator. Not so long ago only a small number of aspirants tackled the peak, now up to 600 people/year pay up to $75,000 for the experience. This creates tension over safety and pay issues for the Sherpas.
Whilst filming in April 2014, news arrives of the tragedy at Kumbu Icefall when 16 Sherpas were killed at this treacherous passage near the mountain's base camp. Peedom expertly balances intimate human stories with coverage of rescue efforts and the political fallout from the disaster.
Central to everything is the reaction of Phurba and fellow Sherpas, whose profound grief coupled with newfound confidence in standing up for their rights raises the prospects of strike action.
Surrounding this compelling narrative is intelligent analysis of historical and political factors at play including Nepal's troubled political past and recent transformation from absolute monarchy to multi party democracy.