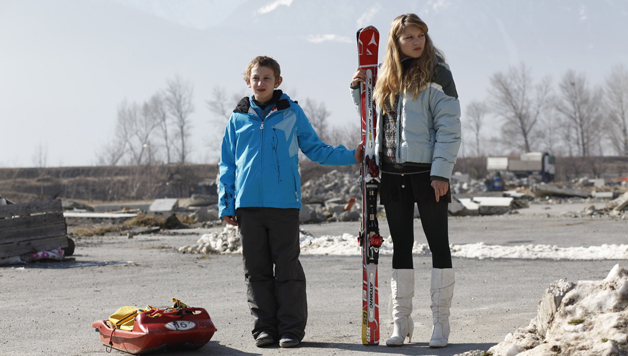 Mature themes and coarse language
---
France/Switzerland 2012
Director: Ursula Meier
Featuring: Léa Seydoux,Kacey Mottet Klein, Léa Seydoux, Gillian Anderson, Martin Compston
Language: French with subtitles
Running time: 97 minutes
---
Klein shines in this quirky off-piste sibling drama.
The upstairs/downstairs drama is taken to frosty, alpine heights in the heart-rending portrait, Sister. Stealing in amongst the well-heeled snow bunnies (and stealing away with their ski gear!) is the lovable thief Simon (Kacey Mottet Klein). A natural wheeler-dealer with a rather tidy 'second-hand' trade, Simon lives in the shadow of the privileged ski fields with his older sister Louise (Léa Seydoux). Louise can barely hold down a waitressing job, and frequently abandons Simon for various assignations, but despite her often cold shoulder, Simon wants nothing more than to win her affection.
Sparingly written and beautifully directed by Ursula Meier, the film is shouldered by Klein, whose astounding performance is filled with equal parts guile and vulnerability. His off-piste adventures also see him cross skis with the highs and lows of resort society: a wealthy mother (astutely played Gillian Anderson) and an opportunistic kitchen hand (Martin Compston), but it is the home front that ultimately proves the most treacherous terrain.
Seydoux again proves herself a spellbinding performer to watch, as long denied truths painfully play out across her face. Together with Klein, the pair artfully weaves the ties that bind, crafting something that is both fragile and tenuously hopeful.
Review By: Alice Tynan on Oct 24, 2013
Compiled By: Mark Horner