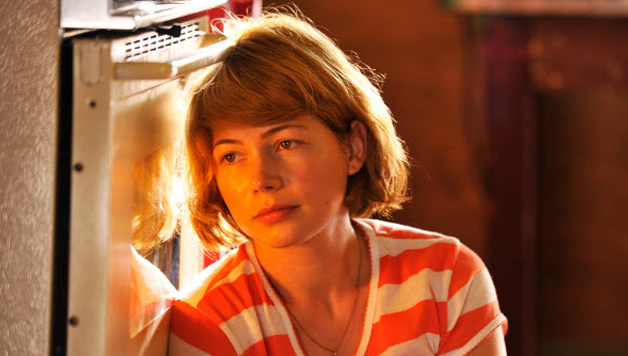 Strong sex scenes and nudity
---
Canada 2012
Writer/Director: Sarah Polley
Featuring: Michelle Williams, Seth Rogen, Luke Kirby and Sarah Silverman
Running time: 116 minutes
---
Margot (Michelle Williams) is happily married to cook-book author Lou (Seth Rogen), and living in a Toronto suburb. On an assignment to write a new pamphlet for a tourist attraction, she meets Daniel (Luke Kirby) who happens to be sitting next to her on the plane flying back home, and the turns out to live across the road from her. A spark at their meeting begins to destabilise Margot's innermost feelings. They meet discreetly but are restrained in their affair. Eventually, Lou senses that something is wrong and Margot has to decide what and who she really feels and wants.
This reflective film grapples with issues about love, sex and commitment, exploring the notion that life may leave gaps leading to choices that are there for the taking. Sarah Polley's film is yet another wonderful platform for the iridescent talents of Michelle Williams, who has a natural ability to portray thoughts and a tangible mood. It's about marriage in a rut and the flicker that sexual chemistry brings, offering temptation to springboard into a new relationship. While the film's nudity expresses the baring of the soul and there are some revelatory truthful moments, patience is required to take the journey that Polley signposts.
The gorgeous photography gives summertime Toronto a steamy, sexy glow and the music (including the Leonard Cohen song that provides the title) adds to the film's air of yearning. Above all, Polley gets terrific performances from her cast. Kirby is slyly seductive; Rogen underplays impressively in a rare non-comic role, as does fellow comedian Sarah Silverman as Lou's recovering alcoholic sister; but Williams outdoes them all and makes her heartsick heroine all too believable. 
From reviews by Louise Keller (Urban Cinefile) and Jason Best (Movie Talk)
Extracted and compiled by Gail Bendall.