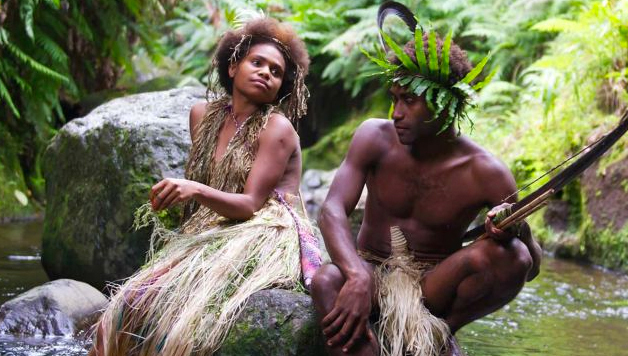 Mature themes and violence
---
AUSTRALIA, VANUATU 2015
Directors: Martin Butler, Bentley Dean
Featuring: Maria Wawa, Mungau Dain
Language: Nauvhal
Running time: 100 minutes
Original review: Louise Keller, Urban Cinefile
Extracted by: Gill Ireland
---
Lush green forests, crystal waterfalls, an angry volcano and a tribe of life-loving people intent on preserving the customs and traditions of their Vanuatu ancestors form the heart of this cinematic film in which a poignant Romeo and Juliet tale plays out. Winner of the Audience Award at Venice International Film Critics' Week, directors Bentley Dean and Martin Butler have created a stunning visual essay in the unspoilt tropical paradise of Vanuatu's Tanna. Using rich cinematic language, Dean and Butler allow us to observe the tribal customs and traditions of the people of Yakel. Locals who have never acted before bring the largely improvised story to life: an arranged marriage designed to keep the peace between tribes and the two young lovers willing to defy everything for each other. Based on a true story; emotions, traditions, peace - are all at stake.
A volcano spits its fury in the distance and the undercurrent of intertribal rivalry and war be-comes apparent as we learn that Wawa's newly arranged betrothal is the promise between two warring tribes to keep the peace. The lyrics of a traditional song recount the tale.
Bentley Dean's cinematography is breathtaking - the saturation of the colours is extraordinary. The film is worth seeing for the visuals alone. The haunting sounds of Lisa Gerrard's distinctive vocalizing is the intoxicating thread with which the narrative holds together - along with Antony Partos' rich score. Dean and Butler spent seven months living with the inhabitants of Tanna while making the film. The result is unique.