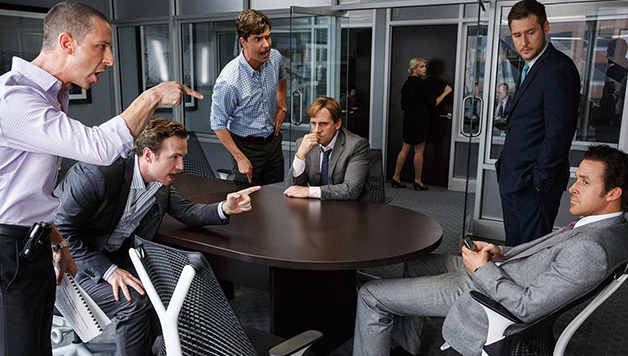 Coarse language and nudity.
---
USA 2015
Director: Adam McKay
Featuring: Christian Bale, Steve Carrell, Ryan Gosling, Brad Pitt, John Magaro, Marisa Tomei
Running time: 130 minutes
Original review: Andrew L Urban; Urbancinefile
Extracted by: Kim Pridham
---
Based on a true story of four outsiders in the world finance who predicted the credit and housing bubble collapse of the mid-2000s and decide to take on the big banks for their lack of foresight and greed.
Before the global financial crash of the mid 2000s, a NINJA loan application was one made by a person who had no Income and no Job to declare on the application and there were hundreds, perhaps thousands of eager young salesmen bragging about how much commission they made off these.
This is just one sliver of the whole sorry story, which the filmmakers tell with a combination of brio and passion. Nobody is portrayed as a hero and the senior ranks of the big banks and the ratings agencies are prosecuted in this filmic court with dogged dedication and persuasive arguments, all backed by the unavoidable truth of what happened.
As cinema, The Big Short is notable for its use of visual devices to create atmosphere and for its willingness to have a couple of characters 'cross the line' and speak directly to us via the camera, explaining some of the intricacies of trading. Ryan Gosling's Jared Vennett does the most of this, a top performance.
Christian Bale gives a sensational performance in the key role of the offbeat Dr Michael Burry, who foresaw the looming catastrophe; Steve Carell hits a new performance high as Mark Baum, a fierce if flawed man with a conscience; Brad Pitt makes a deceptively minimalist ex trader. It's a riveting film, depressing in its critique of a system that was built on greed and fraud and rebuilt after the crash with taxpayers' money, only to continue its brazen practices today.