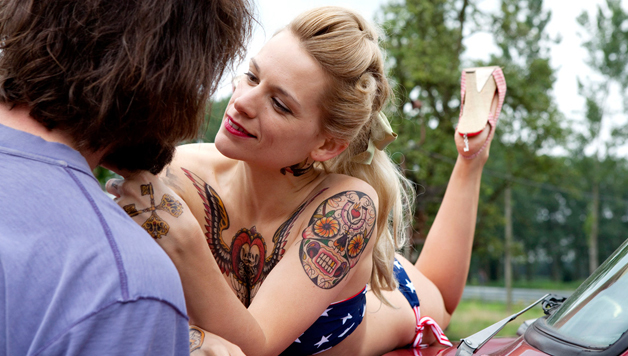 Strong themes and sex scenes
---
Belgium 2012
Directed and written by: Felix von Groeningen, from a play by Johan Heldenbergh and Mieke Dobbels.
Featuring:Johan Heldenberg, Veerle Baetens, Nell Cattrysse.
Language: Flemish, English
Running time: 112 minutes
---
Elise (Veerle Baetens) and Didier (Johan Heldenbergh), two unconventional star-crossed lovers, fall for each other despite their differences. He talks, she listens. He's a romantic atheist; she's a free-spirited realist. The couple make a life together in a gorgeous country farmhouse, begin a bluegrass band and raise a beautiful daughter, Maybelle (Nell Catrysse). But when an unexpected tragedy strikes, their love and everything they know is tested.
The juxtaposition of bluegrass music in this heavy-hitting drama about love and loss brings with it an unexpected and exquisite timbre. The film is powerful in that it addresses the tough issues of illness, death and conflict with great veracity as the love story between its two protagonists unfolds at different times in their relationship. The present and the past are woven together like pieces in a jigsaw depicting the lives of Didier and Elise. Both performances are intense and outstanding. Theirs is a passionate relationship, ignited by physicality and sealed by their mutual zest for living. Like the free-spirited lovers, the film elicits a sense of freedom and the way it builds to its climactic finish is both devastating and beautiful.
The Director, has created a highly textured film that turns on his ability to jumble time lines and maintain a strong narrative drive. He takes us up and down a tumultuous decade from when Didier and Elise first meet until the very end. The final performance, when exuberance and pain is expressed by the music, will haunt you in a way you will not expect.
Original reviews: Louise Keller - Urbancinefile and Colin Fraser- filmink
Extracted and compiled by Mel de Ruyter