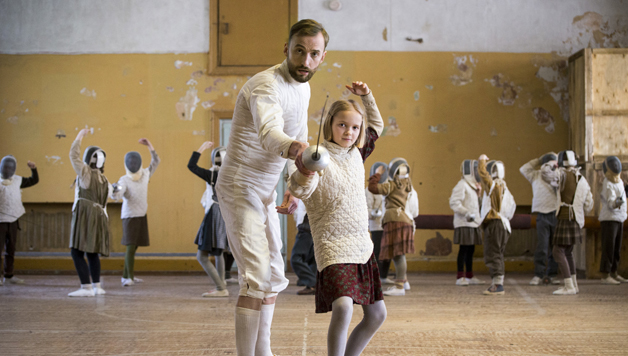 Mild themes.
(Miekkailija)
---
Estonia/Finland/Germany 2015
Director: Klaus Härö Featuring: Mart Avandi, Ursula Ratasepp
Language: Estonian, Russian, Armenian Running Time: 98 minutes
Original review: Justin Chang; Variety
Extracted by: Anne Green

---
The inspirational-teacher movie gets an effective, sober-minded iteration in The Fencer, a fictional account drawn from the life of the legendary Estonian fencing master Endel Nelis, who founded a school for aspiring young swordsmen that still thrives today. Unfolding under a cloud of suspicion and paranoia fostered by the postwar Soviet occupation, this well-acted, smoothly crafted drama tells a story of cross-generational bonding in the face of historical oppression.
The story begins in 1953, a time when the oppressive Russian secret police has forced numerous Estonian resisters into hiding, including Endel (Mart Avandi), who flees his home in Leningrad and heads to the small, remote town of Haapsalu. There, "Comrade Nelis" determines to start a quiet new life and accepts a job as a gym teacher at the local school, where his efforts to give his students a proper physical education are frustrated by a lack of resources, as well as by the toad-faced indifference of the principal (Hendrik Toompere Sr.).
When Endel, a skilled fencer, locates a few foils in the gym, he decides to start an after-school fencing club for the students. Endel is a stern, demanding instructor and before long the students slowly begin to learn and improve. One look at the students at practice, silently advancing with makeshift swords in neat formations across the gym floor, is enough to alarm the killjoy principal, who attempts to get the community to ban fencing as an antiquated relic of a pre-communist era. When this backfires the principal pursues a far more dangerous tack, digging into the mysterious past that brought Comrade Nelis to this rural outpost.
The principal's investigation, and the incriminating discoveries it brings to light, dovetail surprisingly well with the story's more routine formulations, which include a love interest and the prospect of a national fencing competition in Leningrad. The suspense operates on two fronts, smartly juxtaposing Endel's fugitive status with the climactic competition, the outcome of which is handled in plausible, modestly rousing fashion.