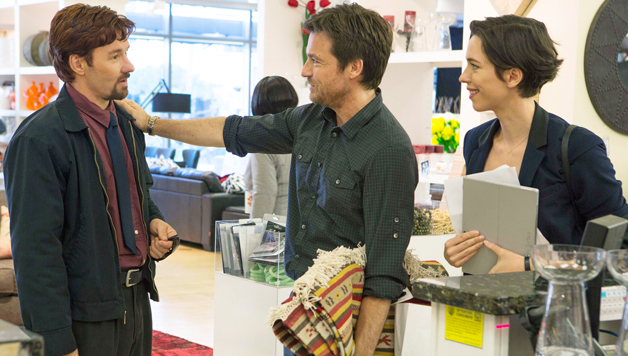 Mature themes, violence and coarse language
---
USA 2015
Director: Joel Egerton
Featuring: Jason Bateman, David Denman, Rebecca Hall, Busy Phillips
Running time: 108 minutes
Original review: Daniel Gelb, allmovie .com
Extracted by: Kim Pridham
---
Simon and Robyn are a successful couple who have just relocated from Chicago to suburban Los Angeles, not far from his childhood home in Southern California. Simon has accepted a lucrative new position at a cyber-security firm. The couple buy a stunning mid-century home, but their seemingly picturesque life masks the reality that Robyn is dealing with a medication addiction following a failed pregnancy. Their retreat to California is a part of the film's recurring theme of hiding from one's past.
While shopping for new furniture, Simon is approached by a peculiar man named Gordo who claims to remember him from high school. Gordo and Simon exchange pleasantries and phone numbers, and the chance meeting appears harmless on the surface. Later that week, an expensive bottle of wine is left on the doorstep of the couple's new home, accompanied by a handwritten letter from Gordo. Troubled as to how he knew their address, Simon's trepidation about Gordo starts to grow. Robyn, however, sees him as slightly awkward but harmless. After Gordo appears at their house again with a list of phone numbers for local services, Robyn invites him over for dinner, which turns out to be uncomfortable viewing at its finest.
After more unwanted gifts and another, more revealing, dinner, Simon demands that Gordo stop contacting the couple. Defeated and lonely, Gordo writes them one last letter, claiming that he was willing to "let bygones be bygones" regarding his past with Simon -- a past that Simon claims he doesn't remember. As Gordo's behaviour becomes increasingly unhinged, Simon and Robyn find their marriage strained by a lack of trust and a shocking secret from Simon's youth that he kept from her. She's exposed to the full extent of his ugly, malicious personality as he begins to lose control of his life. All while the threat of Gordo's return weighs heavily on their minds.