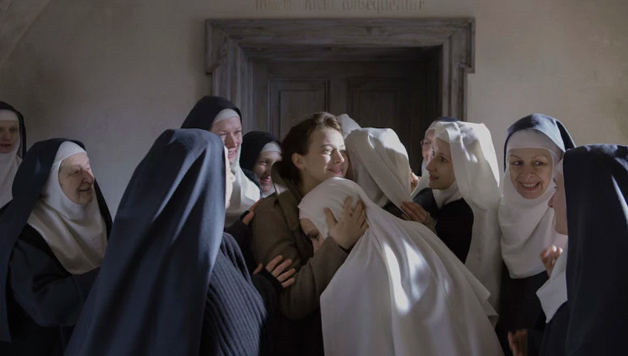 Mature themes and sexual violence.
---
France, Poland 2016
Director: Anne Fontaine
Featuring: Lou de Laâge, Agata Buzek, Agata Kulesza, Vincent Macaigne
Language: French, Polish, Russian
Running time:115 minutes
Original review: DM Bradley; adelaidereview.com.au
Extracted by: Janez Zagoda

---
Maria, a young nun, leaves her convent outside Warsaw in December 1945 and attempts to convince a French Red Cross doctor named Mathilde Beaulieu to help her. Mathilde and the French Red Cross have come to Poland amid the post war chaos to deal with urgent humanitarian matters: Emergency medical care and immunizations, rescuing orphaned children, resettling stateless refugees and Holocaust survivors. At first, Mathilde is a little irritated by the Benedictine nun in her old-school habit — a creature of the old Europe, in Mathilde's eyes — and her mysterious tale of a sister in dire peril. However, Mathilde is too kind-hearted, gives in and eventually accompanies Maria back to the convent to help a woman in great pain deliver a baby, and is told that the young mother has been cast out by her family.
Returning to help further, despite the professional and personal risk, Mathilde discovers the sisters' terrible secret. Russian soldiers invaded the place several times and raped many of the nuns. Now more than a few are pregnant and afraid that if the truth gets out about these less- than-immaculate conceptions then the scandal will ruin them.
Mathilde, a communist sympathiser and atheist agrees to keep coming to care for the sisters as the babies start arriving. While she's sworn to stay silent about it by the formidable Mother Superior, her comings and goings are noticed by her arrogant, Pole-hating doctor lover Samuel. Meanwhile, movingly, new and different sisterhoods are developing, especially as Mathilde and Maria forge a bond stronger than any religious vows.
With gorgeous cinematography by Caroline Champetier and memorably unsentimental performances by de Laâge, Buzek and Kulesza (so stern and flawed but so human), Fontaine's film is neither anti-religion nor pro-science but, instead, about compassion, mercy and forgiveness.