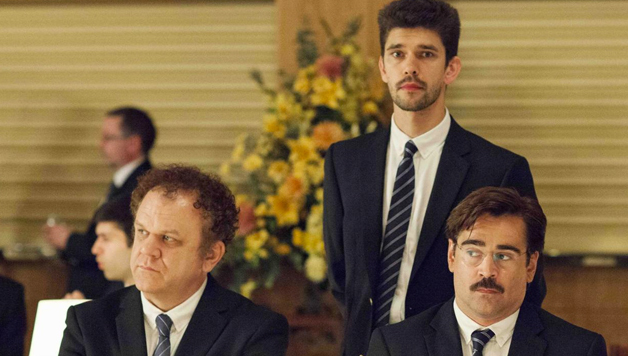 Strong themes and violence.
---
Greece, UK 2015
Director: Yorgos Lanthimos
Featuring: Jacqueline Abrahams, Jessica Barden, Olivia Colman, Rachel Weisz, Colin Farrell
Language: English, French
Running time: 118 minutes
Original review: Sandra Hall, Sydney Morning Herald
Extracted by: Mark Horner
---
A love story set in a dystopian near future where single people are arrested and transferred to a creepy hotel. There they are obliged to find a matching mate in 45 days. If they fail, they are transformed into an animal and released into the woods.
It's the first film in English from Lanthimos, who has attracted a large and accomplished international cast to his cause probably because his nightmarish tilt on the future is shot through with plenty of sinister shafts of deadpan humour. There are rebels, though, confirmed singles who prefer to take their chances in the wild, hunting the many animals spawned by the system and trying to elude the predatory hotel guests who are regularly taken out to hunt them. If these desperate singles can bag enough dissidents to go through the transformation process in their stead, their search for a partner is extended.
The film's star is Colin Farrell, showing off his diffident side and his part here as David, a paunchy architect with glasses and a hang-dog air, is typical.
David's wife has left him and he's arrived at the hotel with such a pessimistic view of his prospects that he's already chosen his animal – the lobster, because it has a long, fertile life and blue blood, giving it, he thinks, a certain aristocratic cachet.
The film is at its most sardonically inspired in the hotel scenes, where the comforts of the English country-house hotel are arranged around a rigid set of rules backed up by an array of sadistic punishments. Presiding over it all is Olivia Colman, haughtily combining the qualities of games mistress, tour director and concentration-camp commandant.
David puts up with this for a while. Then he goes AWOL, joining the rebels and pairing up with Rachel Weisz only to learn that his new allies are as strictly conformist as his old jailers. In this corner of the wood, love, lust and flirting are all forbidden.