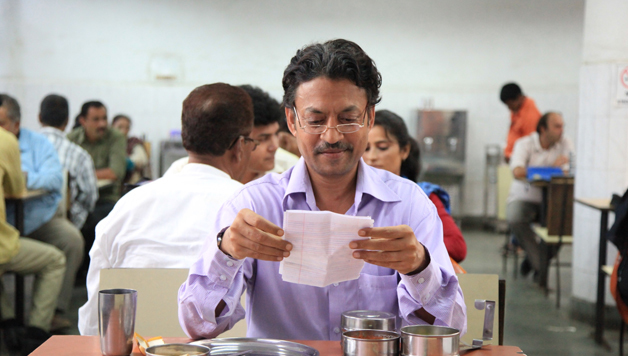 Mild themes
---
India/France/Germany/USA 2013
Written and directed by: Ritesh Batra
Featuring: Nimrat Kaur, Irrfan Khan
Running time: 104 minutes
---
Sometimes the wrong train will get you to the right station is a key expression in this rich relationship tapestry as it weaves its textures of loneliness through culinary pleasures. In this case, it's the wrong lunch that reaches the right recipient and writer director Ritesh Batra stirs his flavours gently, allowing the delicate aromas of human interaction to blossom unexpectedly in a heart-warming romance.
The lovely Ila cooks all kinds of delicious delicacies for her husband's lunch, hoping the proverb that suggests the way to a man's heart is through his stomach is true. Her delight is apparent when the lunch ramekins are returned by the office lunch service courier bearing the seal of approval. They are empty. We quickly learn that it was not her husband who received the lunch. A little note hidden under the chapatti starts the ball rolling but the exchange does not proceed as expected.
Saajan, the reclusive accountant who has been running the claims department in a busy firm for 35 years is about to retire. The arrival of the lunchbox carry case soon becomes his daily highlight, the note becoming even more important than the tantalising food.
Tension is cleverly built around the issue of whether or not Ila and Saajan will meet - after all, their exchanges have set them both on new roads heading in new directions.
While we do see a few shots of scrumptious looking dishes, food is mostly used symbolically in the budding relationship between the central characters.Some may find the ending rather abrupt, although it plays truthfully, allowing the audience to make its own assessment of the story's resolution. This is a charming film that lingers and whose melancholy note sings sweetly.
Original Review: Louise Keller Urbancinefile
Extracted by Gill Ireland