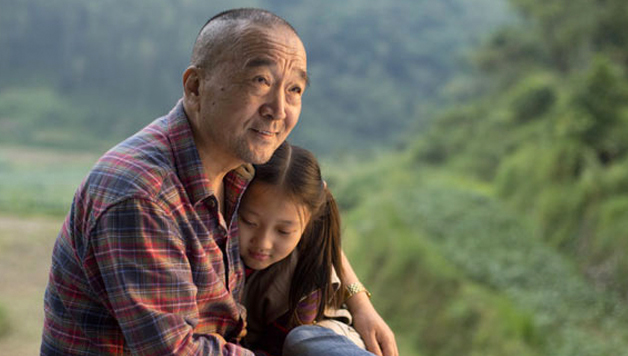 (Ye Ying – Le Promeneur d'oiseau)
---
China/France 2013
Written and Directed by: Phillipe Muyle
Featuring: Baotian Li, Xiaoran Li, Xin Yi Yang
Language: Mandarin
Running time: 100 minutes
Original review: Urban Cinefile (Louise Keller & Andrew Urban)
Extracted by: Gail Bendall
---
Simple, but far from simplistic, The Nightingale sings its song with gentle power, telling a story that is both affecting and effective as cinema.
The central relationship, around which the story is built, concerns Zhu Zhi Gen and his young granddaughter Ren Xing, separated not only by age but by the lifestyles with which they are familiar. He, old school country, she, spoilt brat on iPad. Fate puts them together while Ren Xing's parents are struggling with their marriage.
Zhi Gen, an old Chinese farmer, has lived alone in Beijing for over 20 years after moving to the city to allow his son Zhu Chong Yi to attend university. He lives a simple life finding joy in creat-ing things and listening to the song of the little caged bird that we learn has special significance.
He decides to make the long journey from Beijing to Yangshuo to honour the promise he made to his wife to bring back the bird that has been his only companion in the city. His daughter-in-law Ren Quan Ying, a beautiful rich career woman, asks him to take along his granddaughter Ren Xing, her only child brought up in the lap of luxury.
As we glimpse the privileged life of little Ren Xing, we understand she has everything superficial but little of substance. She spends more time playing with high-tech items than bonding with friends of her own age. There's a hollow aspect to her life; her architect father Chong Yi and executive mother Quan Ying pass each other in the night as they pursue their individual, suc-cessful careers.
The rustic countryside provides some spectacular landscapes which add greatly to the films tex-ture and sense of place, while Armand Amars sensitive score provides support to the visuals as well as the drama.