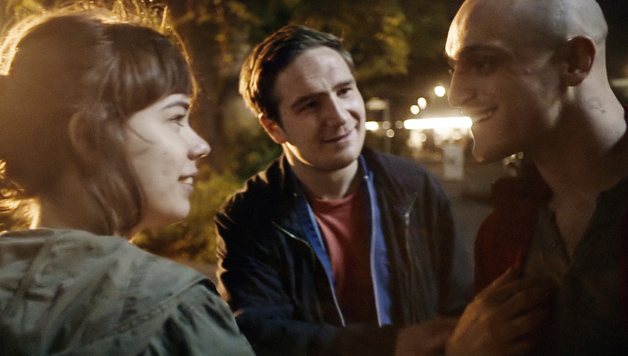 Strong violence and brief nudity.
---
Germany 2015
Director: Sebastian Schipper
Featuring: Laia Costa, Frederick Lau, Franz Rogowski
Language: German, English, Spanish
Running time: 134 minutes
Original review: Nigel M Smith, The Guardian & Tim Robey, The Telegraph
Extracted and compiled by: Janez Zagoda

---
Holy…moly, Victoria is a thunderous German thriller. The reasons are obvious, as soon as you settle in. From the opening moment in a strobe-bedazzled nightclub, to the last image of a nearly empty street at dawn, the film gives us a single 134-minute-long take, roving across some 22 of the German capital's locations. It's entirely free of cuts, digitally concealed or otherwise. Schipper and his crew – we have their word for this – started the camera at 4.40am on April 27, 2014, and ran it without interruption until 6.54am.
The film begins in the vein of a neon-lit Gaspar Noire, with the film's titular heroine dancing in an underground Berlin club to a throbbing techno beat. It's an intoxicating kick-off to a film whose second act swiftly descends into hell.
After leaving the club in the wee hours of the morning to work at a local cafe, Victoria runs into a pack of young men, who seem intent on wooing her. The best-looking of the group, Sonne succeeds. Victoria drops her prior plans, and goes to drink with them on a nearby roof top.
Their burgeoning romance is put on hold as Sonne and his friends are ordered to meet with a professional gangster to whom they owe a huge debt. Victoria unwisely accompanies them to the underground parking lot, where the men are tasked with robbing a bank to repay Andi. Victoria, in way over her head, agrees to act as driver.
It's here, past the one-hour mark, that Victoria goes full-throttle to morph into a breakneck, high-stakes heist thriller; it doesn't let up until its final, mournful reel.
A captivating ride.