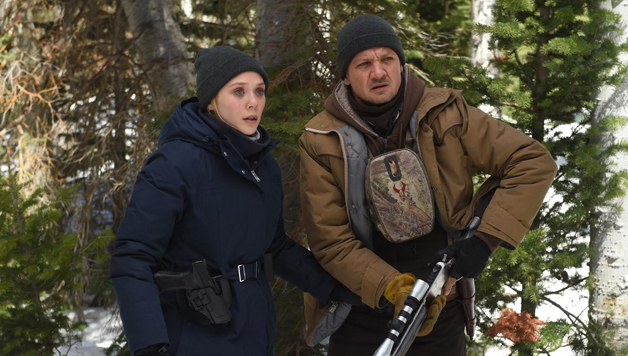 Strong themes, sexual violence and violence
---
USA 2017
Director: Taylor Sheridan
Featuring: Kelsey Asbille, Jeremy Renner, Julia Jones, Graham Greene, Elizabeth Olsen
Running Time: 107 minutes
Original review: Glenn Kenny; The New York Times
Extracted by: Janez Zagoda

---
The movie opens on a breathtaking night sky and snow-capped mountains, with a young woman running over a long stretch of open land. "There's a meadow in my perfect world," a female voice says. The juxtaposition of the imagery and the poetics make for a peculiar opening. Eventually, it all makes tragic sense.
Cory Lambert is a federal wildlife officer who hunts predatory animals at the Wind River Indian Reservation in Wyoming. He seems on intimate terms with the residents there; his ex-wife, with whom he has a young son and had a daughter, is a Native American with family on the reservation. While searching for a mountain lion that has been attacking livestock he finds a corpse frozen in the mountain snow. The dead young woman, who suffered a head injury and was also raped, was the best friend of Cory's daughter, who died three years earlier under similar circumstances.
Homicide on an Indian reservation, as it happens, is a federal crime. The F.B.I. which, going by the attitude of the reservation's quiet police chief, is consistently less helpful than it should be, dispatches Jane Banner, a seemingly very green agent, to head the investigation. She shows up wearing an F.B.I. windbreaker and Cory calmly informs her that she'll be dead within five minutes if she goes up the mountain dressed like that. "See what they send us", one resident says mournfully, shaking his head.
The case lights up a cold fury in Cory. He reassures the victim's father, "I'm a hunter." He demonstrates to Jane that in this terrain, it's the landscape that will yield the most important answers, not the frequently recalcitrant Indians whom Jane wants to interview. He's right, of course, and his wisdom is borne out in some gut-wrenching ways.
The movie builds to a shocking climax, even though the revelation of the bad guys makes immediate, sickening sense. The film's ultimate statement sinks in later, with an expanded awareness that the justice done by the good guys in this film is not nearly sufficient with respect to the larger injustice done to Native Americans.